How to Unlock and Use the Auction House in NBA 2K23?
rs4mil
Date: Oct/20/22 23:19:01
Views: 184
Auction House is part of the NBA 2K23 MyTeam mode, where players can build their team from the ground up and create an All-Star lineup. This guide will learn how to unlock and use Auction House in NBA 2K23.

How to Unlock the Auction House in NBA 2K23?

1). First, you'll need to get to the new Lifetime Agendas in the MyTEAM screen.

2). From there, players will need to collect 30 cards to unlock the Auction House.

3). Those can be done across several MyTEAM game modes and challenges. Single-player challenges include a variety of tasks to accomplish, including kill, pick-up, activity, signature, and spotlight challenges. Completing each challenge rewards a maximum of five cards or a minimum of three cards for each challenge. Completing these challenges will quickly unlock the Auction House in NBA 2K23. Triple Threat is another way to earn cards quickly, allowing players to earn five-card packs or more after a few wins.

4). Right off the bat, MyTEAM players pick their Starter Card and Pack, which have around 23 cards inside.

5). From there, you could have some unopened packs if you pre-ordered NBA 2K23 or bought a special edition.

6). If not, that's okay, and you can play Domination to earn the reward cards and build up that NBA 2K23 MT capital.

How to Use the Auction House Wisely in NBA 2K23?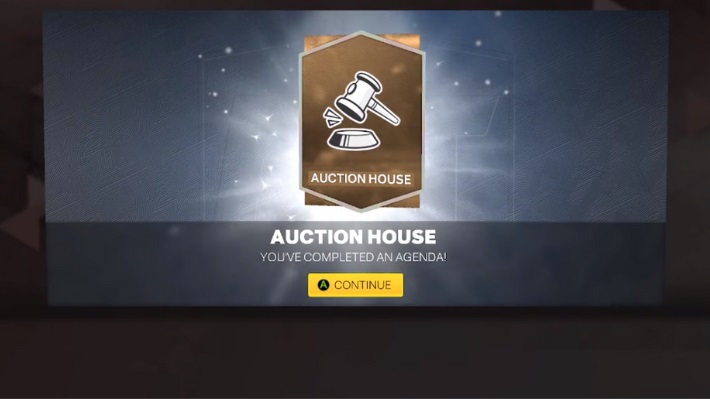 The NBA 2K22 Auction House is used to buy cards with MT coins and sell players to earn a certain amount of MT.

After unlocking the Auction House, you can start trading in your players. Before you jump in, keep a few things in mind first. You need to have another player who plays the same position as the one you are willing to give up. This will be your backup player for the same position. Now, pick the player you want to place for auction, then wait till they are sold. You can also check for another player to buy here.

Besides buying and selling players for your team, you can send other items like cards and accessories and buy certain items from the Auction House. The only things you cannot sell or buy are pre-order items.

That's all there is to know about the Auction House in NBA 2K23. If you like this guide, you can also visit here to check out our other guides, updates, and tips.